CASE STUDY
Bulldog DM live streaming amplifies
Coca-Cola festival sponsorship
The Opportunity
Coca-Cola, as the official presenter of the prestigious Vive Latino Music Festival, wanted to extend the experience to digital platforms and stream the entire festival to fans on any connected device.
The Experience
The Vive Latino music festival is regarded as one of the most established and important music festivals in the world. Vive Latino features some of the top artists in music with international, multi-platinum headliners coming together for three days in a festival experience of compelling music, art and food live from Mexico City. Vive Latino features over 100 artists from all over the globe. View the experience here
Bulldog DM Partnership
Coca-Cola turned to Bulldog DM to provide a turnkey live streaming solution to extend the branded experience to connected consumers throughout Mexico who could:
tune in and live stream the experience in HD
switch between stages
view from their mobile handsets
participate via social media
enter their mobile numbers to get SMS reminder notifications of their favorite artist performances
stream in live Virtual Reality and 360
view from Facebook, YouTube and Twitter
all as a completely branded Coca-Cola experience!
The "Vive Latino presented by Coca-Cola" event was set to attract over one million views, so Coca-Cola needed a skilled partner that could develop and host a robust and rich experience for the virtual attendees.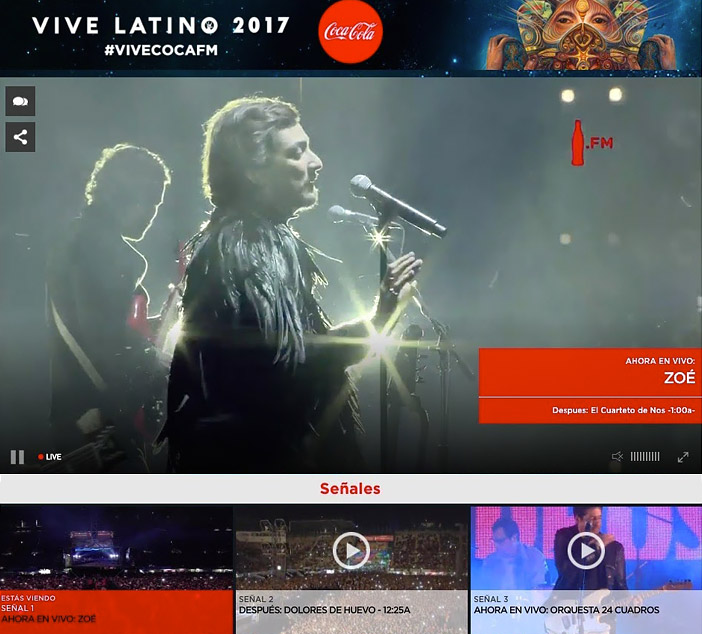 The broadcast and engagement solution
Bulldog DM managed all of the video feeds from 6 stages and created a turnkey digital broadcast that aligned Coca-Cola with the live performances and engaged with fans on their connected devices.
Bulldog DM delivered and managed a rich social media strategy that facilitated a participatory experience for fans to chat, comment and connect around the live experience, increasing engagement time three-fold.
The user experience included:
design integration of brand logos, assets and styles
a customized social media application
a multi-channel video player
an interactive festival schedule with optional SMS text notifications
Viewing from Facebook, Twitter and YouTube
Live Virtual Reality and 360 streaming of the main stage
The cross-platform experience included desktop, tablet and mobile platforms and allowed the festival audience to experience the event and connect with each other in real time from anywhere within Mexico.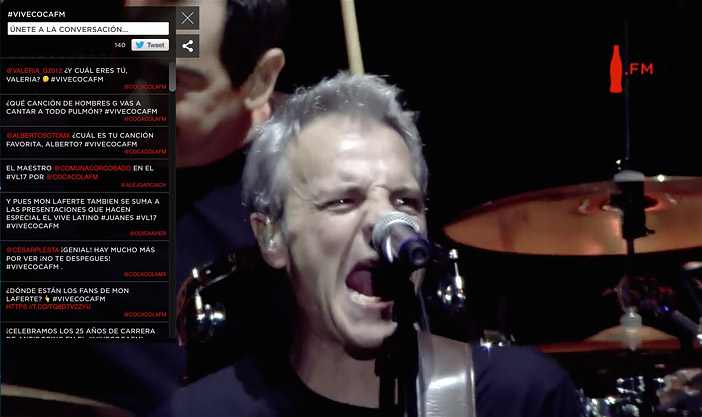 Bulldog DM provided live-event monitoring of the page, the interactive widgets, and live-stream experience. The event was hosted on a scalable, cloud-based server infrastructure that provided a stable, flexible framework for the large-scale audience. The post-event reporting offered insights on the live stream user demographics, social media engagement, and its influence on user behavior within the context of the live stream page.