CASE STUDY
Bulldog DM Rocks SXSW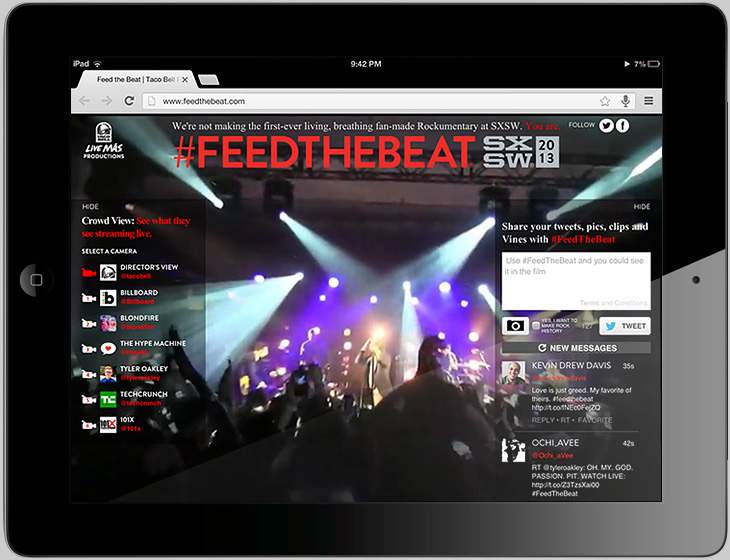 Feed the Beat has sponsored over 500 up-and-coming music artists and assisted in the success of bands such as Fun., Gym Class Heroes, and Ra Ra Riot. This year Feed the Beat sponsored the first-ever rockumentary starring Passion Pit and Wildcat! Wildcat! with content sourced by fans watching at home and in the crowd. The event was slated to be a huge success with over 500,000 people viewing the rockumentary trailer prior to the event. [1]
Bulldog DM took the digital interactive music experience to a new level – for fans and the Taco Bell brand – by streaming Feed the Beat, in real-time, to any connected device and allowing fans to participate and share their content through social media.[2] 
Moreover, several breakthrough innovations were enabled during the experience.  First, Taco Bell was able to empower six social influencers with never before used technology, giving the influencers live HD wireless untethered cameras that were presented to the home viewer in a unified watching experience. Second, the viewer could switch instantaneously, in HD, between the professionally directed master channel and the six social influencer channels as they roamed the venue in live/real time during the Wildcat! Wildcat! and Passion Pit performances. This technology was enabled and curated by Bulldog DM.
1 http://www.clickz.com/clickz/news/2254278/sxsw-2013-taco-bell-rocks-austin-with-feed-the-beat-rockumentary
2 http://www.mediapost.com/publications/article/195735/taco-bell-uses-digitas-real-time-marketing-strate.html?edition=57825#axzz2NwXpzHz1